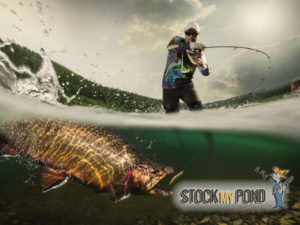 Are you wondering how to achieve proper nutrition for game fish? There are a few factors to consider. One of the most valuable tips to implement is having "forage" fish available. These are small minnows, bluegill, or catfish. They will provide food for your larger game fish such as bass and trout. Want to learn more of the basics? Continue reading below!
Supplemental Feeding:
Provides a constant food source
Contributes to a higher ratio of food to weight gain
Attracts forage fish to a larger body of water
Supplies nutrients to the water which grows phytoplankton
Resistance to disease
Try a floating rotation
When to Feed:
The best approach is to develop a daily schedule. Fish get used to you feeding them in the morning and evening. If you can't commit to twice a day, scattered feeding is still better than nothing. If you want consistency in your fish, give them the same in a routine.
Where to Feed:
Choose a location from a dock or the bank where the feed can be broadcast over deep water and hand feed from the same place each time. Automatic feeders are a consistent go-to and provide great results. Also, consider trying a feeding ring. This will help introduce pellets to your fish population.
How Much to Feed:
Stocking rate – One station for every 10 acres of the surface area is adequate.
Pond fertility – very fertile ponds with high levels of phytoplankton often have high levels of natural food, decreasing the amount of supplemental feed required.
Water temperature – catfish, bluegills, and minnows will surface-feed when the temperature is between 55°F and 85°F, with peak activity occurring at about 80°F.
Purina offers more details to help further the development of your pond. To learn more about proper nutrition for game fish, click here.