Meet the Finleys
In the late 1960's, George and Wade Finley, Sr. pursued careers unrelated to agriculture.  Their father, Don R. Finley was a row-crop farmer and raised cattle on the family farm in Lonoke AR.  George, Wade, and their mother, Alma, were originally from Beeville TX.  Don Finley hailed from Calaghan Ranch in Laredo, TX.  When Don became unable to continue with the operation, he offered his two sons the opportunity.  They saw a future, and carried on with the row-crop and cattle operation.
In 1970, George and Wade branched out into an area that few had endeavored at that time – aquaculture.  They started producing catfish.  The name of the fish farm was Farm Cat, Inc.  From its inception, Farm Cat, Inc. adopted the current trademark logo of a catfish wearing overalls carrying a cane pole over its back, wearing a straw hat, and whistling a tune.
Quickly they learned the catfish were not going to sell themselves in the pond.  They found many people were looking for places to go and pay to fish for catfish.  With their market defined, they faced their greatest challenge – how to get the catfish from their ponds to the ponds in Texas alive!
Pioneers in Live Transportation of Fish
Wade and George started construction of their own live-haul tanks.  Once they had them, the proceeded with a way to keep fish alive during transport.  They had heard of a few people using liquid O2 (oxygen), just as is used in the medical field.  Farm Cat became a pioneer in the development of live hauling tanks and liquid O2 systems.
Over the next few years, they learned how to transport many different species of fish, as each species transports differently.
Farm Cat, Inc. became a major force in the evolution of live transportation of fish.  They were one of the pioneers in moving fish successfully from farm to market, including the success of transporting Grass Carp to the Panama Canal!
O2 System Pioneered by Farm Cat Inc. Leads to Successful Fish Transport to the Panama Canal 
In the mid-1970's another pioneer, Jim Malone, a family friend, started producing white Amur for the control of aquatic vegetation. When the Panama Canal was built, it soon had a major aquatic vegetation problem.  The ships could not navigate through the canal because the aquatic vegetation was so heavy.  The government hired Jim Malone to assist in the stocking of Grass Carp in the canal. After attempts to transport the first on trucks in C-130 degrees failed because the fish arrived stressed and later died, they called upon Farm Cat, Inc.   Wade new that oxygen levels fluctuate significantly at different altitudes.  Too much O2 is just as fatal as not enough.  Farm Cate monitored the O2 on the plane during the flight and made necessary adjustments to keep the fish in good health and condition.  The flight was a success.  Since this major milestone, Farm Cat, Inc. has transported live fish from coast to coast successfully.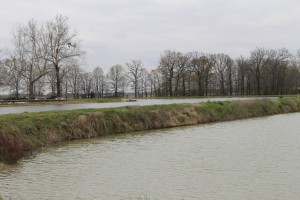 The Legacy Continues
George and Wade Finley both had sons, Thad and Wade Jr.  Cousins by blood, they boys were brothers by virtue.  Thad and Wade lived and breathed row-crop farming and developed a true passion for it.
By 1992, Wade, Sr. and George had backed off the production of fish.  Their sons, Thad and Wade began their fish farming careers with the construction of ponds.  In the first 8 years Thad and Wade took over the business, Farm Cat, Inc.  started transporting food-type fish to live markets in New York, Chicago, Toronto, Ontario, in addition to the pond and lake stocking.  In 1997, they had outgrown our 6-vat holding facility and constructed a new 24-vat fish shed, which holds the fish prior to shipping.   Today you will find more than 450 acres of water in production at the farm.
Farm Cat Inc. is an unusual and rare fish farm facility.  We produce and transport a variety of fish and specialize in pond and lake stocking and management.
With 60 years of vast knowledge under our belts, your lake or pond can flourish to its maximum potential.