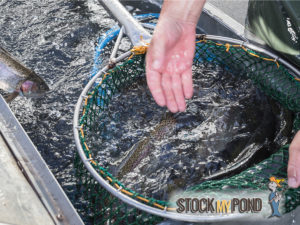 Stock My Pond provides quality fish delivery service to your pond or lake!  When our fish trucks are in your area, we can make a pond drop of fish for your pond and lake. We proudly serve the following states: Alabama, Arkansas, Georgia, Mississippi, Oklahoma, Tennessee, and Texas.
Important to remember:
Minimum order of $1,000 is required for a pond drop.
We must be scheduled to be in your area for a pond drop, within 20 miles.
Half acre pond packages do not qualify for free delivery.
You can place an order for a pond package below on our website.
For pond drops, Stock My Pond offers pond stocking packages. Choose from half acre to one acre pond packages.