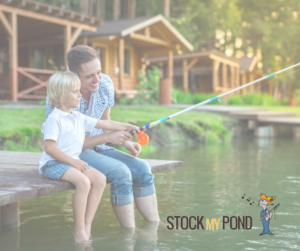 The heat of summer means a pond stocking slow down, where we suspend fish and pond stocking deliveries. Transporting fish during the heat of summer can lead to fish kill. You won't find any deliveries to feed stores during July and August, it's just too hot.
Pond stocking is a seasonable business.  You won't find deliveries during the heat of the summer (traditionally July & August), or during the winter months (Dec-Jan).
Deliveries and updates to our website and Facebook page will start back up again in August. Look for schedules on the website starting in August, with deliveries Sept – November.
Want to know when we start back up? Sign up for our FREE newsletter here. We'll send you an email with the latest schedules twice a month.
In the meantime, you can check out articles on our Facebook page and website about caring for your pond and fish. We partner with some of the best in the industry including Bob Lusk (aka the Pond Boss) and Outdoor Water Solutions.
Have a question for us? Send us an email or give us a call. If we're a bit slower in responding, it's because we're out fishing.