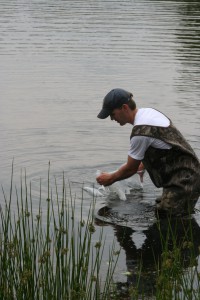 We hear this question a lot, and we should. We deliver fish to feed stores around the South. Folks want to know how to protect their investment and bring it safely back to their ponds or lakes.
How can we transport our fish? The fish truck provides containers (bags) for all fish except the 11″ channel cats, so please bring your own containers for them. Suggestions for the larger containers include trash cans or water troughs. The fish are added to a bag with water and oxygen.
How long can the fish be in the bag? No longer than 1 hour! Determine how far a drive you have before purchasing your fish. Transport the fish in a cool and shaded area of your vehicle. This is key. Many folks think they can travel longer than an hour and end up with dead fish.
Once you arrive at your pond or lake it's time to introduce your fish their new home. Here are some tips and guidelines to follow:
Introduce the fish to their new habitat as quickly as possible.  Don't delay in getting the fish to the water.
Once on site, let the fish rest while in their bags in a cool, shady area.  Be aware that the sun can quickly raise the temperatures inside the bag.
 Introduce your fish slowly to the pond, pouring a small amount of the pond or lake water into your open bag to even out the water temperature and acclimate your fish. Do not dump the fish from the bag into your pond or lake!  Take time to acclimate them to the temperature of your pond or lake.
 After a few minutes, a few fish should swim away.  If they do, release the rest in that bag.
 If the fish do not swim away, repeat the process, adding more pond/lake water to the bag to let the fish adjust to the water temperature.
Floating the bags is discouraged as the sun can quickly raise the temperatures inside the bag.