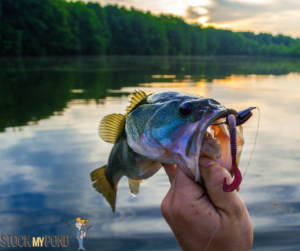 As most of our fish customers know, harvesting creates balance. Giving special attention to bass and bluegills, we've got some great information to share! Harvesting helps maintain the pond and its population. Purina has released some helpful suggestions that will aid you in creating a thriving environment for your fish. Check them out below!
Recommendations:
The size of the fish you wish to harvest is entirely up to you. If you're managing for good all-around fishing, you can harvest the following recommended number of pounds of good eating-size fish:
Bass- Fertile and Fed Ponds-25
Bass- Infertile Ponds- 10
Bluegills- Fertile and Fed Ponds- 200 or less
Bluegills- Infertile Ponds- 100 or less
Enhancement Strategies:
Play an active role in enhancing the quality of fishing in your pond by utilizing the following strategies:
Feed your fish
Install fish attractors – these supply cover and protection for fish, provide a substrate for aquatic invertebrates, and concentrate fish for better fishing.
Aerate and destratify – mix the water to prevent dead areas from forming in your pond. It can make your pond more productive, eliminates pond turnover, and can prevent fish kills due to oxygen depletion.
The overall goal is to have a self-sustaining pond that produces healthy fish. Purina suggests you keep records of your catch and harvest to compare during different seasons. One specific target to aim for is to have both species in equal harmony. A variety of other species typically don't stay in balance despite management efforts. Simply restock each year to avoid issues.
For more information on stocking strategies, contact your local Purina Animal Nutrition representative or visit our website. Stay tuned for more pond stocking dates coming soon! We hope you learned a little bit more about how harvesting creates balance.
To view the entire article, see here.