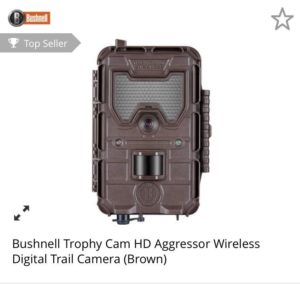 Stock My Pond is running a special throughout the month of October 2017. Purchase a 1-acre pond package or order $1,000 in fish and you'll be entered into a drawing for a chance to win a Bushnell Trophy Cam HD Digital Trail Camera.
A 1-acre pond package includes the following and is $999:
750 Bluegill
100 Red Ear
100 Hybrid Bluegill
200 Largemouth Bass
100 Crappie
10 LBS Minnows
300 (4-6″) Catfish
This promotion starts October 1, 2017.  Call to place your fish orders at (501)676-3768, or book them online here.
Highlights of the Bushnell Trophy Cam HD Trail Camera include:
Wireless Control/Image Transfer with App
GPS Geotagging
14MP Resolution
Hyper PIR Motion Sensor with 60′ Range
.03-sec Motion Trigger Speed
48-LED Invisible Infrared Flash – 80′
Field Scan 2X time-Lapse Mode
HD 720p Video with Sound
Records to SD/SDHC Cards up to 32GB
Runs on 4-12 AA Batteries
Capture photos and videos of wildlife or trespassers with the brown Trophy Cam HD Aggressor Wireless Digital Trail Camera from Bushnell. Its wireless connectivity allows you to transfer images to your smartphone and change settings remotely via the free iOS or Android app. Additionally, benefit from BPS geotagging and daily monitoring with location updates.