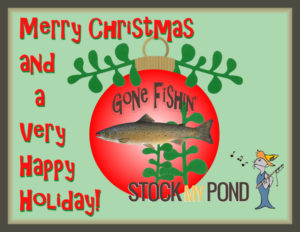 As the end of the year draws near, it's time to reflect on how blessed we are, and how fishing is a blessing!
During this season when we reflect on the goodness of the Lord, we can count our blessings and be sure to thank the Lord above for everything, including our home, our ponds, and lakes, and the benefit they are to our family and us.
Especially to our children.
Our children are the future of our families, and of our nation.
And while we count our blessings and reflect on this year as it is closing, we may find ourselves considering the future and what we wish for our children.
There is something we have right now that impacts our children's positively.
Fishing is a gift that we can give to our children, and they will benefit from it their entire life.
Consider, if you will, just how blessed you are, being able to have your children fish! Seriously.. when you give it some thought, you'll discover that with fishing, the blessings for our children are many. There is more than just what meets the eye when you watch your child reel in their first catch.
Teaching your child to fish gives them a life skill that provides food, and allows them to develop skills that build self-confidence, and improves with age. Fishing is one of the few types of nature-based recreation that scales our childhood, adolescence, adulthood and senior years.
Educating your children about this sport brings environmental awareness into focus, cultivates rational thinking and enhances decision-making abilities. And the educational efforts that you do today ensures that our recreational fishers of tomorrow understand sustainable fishing practices.
Considering that physical activity has been declining in our youth, with electronic media and other sedentary pursuits having become so consuming, fishing helps stop this trend from having its destructive effects on your family.
Studies have shown that children continue to spend less and less time engaged in physical activity outside, placing them at risk for obesity and other detrimental health effects. Promoting enjoyment of the outdoor recreation of fishing, all through your child's life offers them the prospect of a longer, healthier life.
Being outside and fishing is good for the soul, deterring electronic media preoccupation, as well as the anti-social and withdrawn behavior that often accompanies it. It helps you by offering your children something far more valuable than social media and video games. Fishing also provides benefits to our youth suffering from behavioral and mental health issues and reduces ADHD.
Fishing also teaches patience, perseverance, and development of motor skills.
Recreation fishing blesses your children by allowing them to interact with children and adults outside of their regular circle of friends, forming new acquaintances and beginning new friendships. Continuing to fish provides experience, which in turn allows our children the opportunity to talk about and demonstrate their knowledge of the sport, further increasing their self confidence.
If you are struggling with your child's hyperactivity issues, take heart – studies have found that hyperactive children enjoy sitting quietly by the water for long periods of time. Interest in fishing has also proven to coax withdrawn children out of their shells, where they initiate their participation in the sport!
Should you have family members with disabilities, whether children or adults, they will typically enjoy family outings which provide companionship, interest, and challenge. Fishing in itself is recreational, and the therapeutic benefits help individuals with disabilities emotionally, intellectually and physically. Fishing rods and reels can be designed for folks with limited or no movement in their hands and arms, and there are specialty shops which make equipment specifically for the disabled. There are many charitable groups which excel in helping disabled persons to the shoreline with a reel, catching smiles along with the fish!
Fishing offers any participant the ability to unwind from the stress of everyday living – we do not forget that the relaxation that fishing provides is worth more than gold. The peace that we get when we are gone fishin' and out in nature, enjoying the beauty of the Lord's creation, is without measure. Enjoying the quiet on the lake sure goes a long way in contributing to goodwill towards all, as fishing is enjoyable whether or not one catches any fish!
During this time of the year when we reflect on the blessings of the good Lord, there are numerous benefits of fishing for which we should be thankful for, especially having the ability to fish. If you don't yet have your pond, now is an excellent time to consider one. It's a gift for your children and family, the gift of fishing at home.
If you already have a pond, that is another blessing to be thankful! And it is your responsibility to care and maintain your pond to the best of your ability.
One of the responsibilities of caring for our lakes is harvesting, and this is the time to do it – once the temperature dips below 50 degrees, fish just do not eat like they regularly do, and lose weight. So harvest as needed now, as the chilly days are upon us and the temperatures are dipping! Cooking a superb fish dinner during the holidays is another treasured memory to be created.
And is it true that fish are more likely to be caught when you are wearing a Santa hat? 🙂
We wish you the enjoyment of yet a few more days of fishing this year, a lifetime of fishing with your children, and a very Merry Christmas.
Thank you for your business, and we look forward to serving you in the New Year!
And oh yes, don't forget, after the holidays are over, de-trim your Christmas tree and take it out to your pond – Christmas trees are excellent brush fish attractors!
To read more about the benefits of youth and recreational fishing, see these sources:
ghof.org.uk
telegraph.co.uk/education/3352940/Why-its-good-to-catch-em-young.html wideopenspaces.com/health-benefits-fishing-infographic
Information about fishing for the disabled:
disabledsportsusa.org/sport/fishing
archive.disabledsportsusa.org/fishing fishingworld.com.au/news/fishing-4-therapy-achieving-amazing-things
Benefits of recreational fishing: selfgrowth.com/articles/what-are-the-benefits-of-fishing-to-your-health
dgif.virginia.gov/fishing/top-10-reasons-to-go-fishing
taskandpurpose.com/fishing-benefits-man